When the urban planners of Gehl studios imagined Capstone they drew it as a complete mixed-use community. A community which not only met the living needs of its residents but was also a destination community - attractive to locals and visitors alike because its retail offerings were truly unique within the City of Red Deer.

Capstone's master plan vision and the corresponding Area Redevelopment Plan are in alignment, generously supporting a large amount of retail development in the neighbourhood. Capstone will offer over 500,000 square feet of potential commercial development representing a wide range of retail offerings from hospitality services, to convenience retail, to experiential eateries. Indeed, something for everyone.

Combining a new host of retail operators with the existing mix of eclectic vendors - Troubled Monk Brewery, Purearth Organics, Dose Coffee - to name a few, will no doubt establish the neighborhood as a destination hot spot.

Land parcels within Capstone are being sold for mixed-use development.

Depending on the parcel location and partner vision, the types and size of retail will differ considerably. Obviously, the largest riverside parcels - the area offering the greatest residential density – contemplate the largest concentration of commercial development. Parcels H1 and H2 (combined 1.7 acres) are imagined to include a boutique hotel and would bring complimentary services like restaurants, cafés, ice cream shops, spa and/or meeting services and more to the Red Deer River.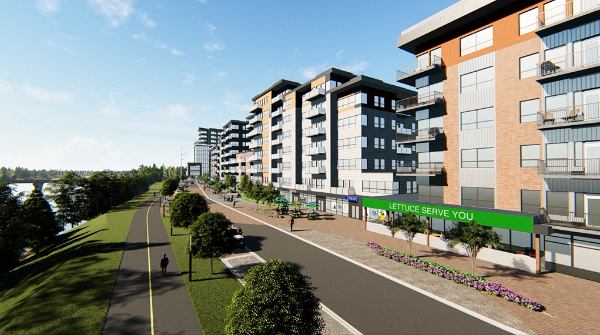 Above: artistic rendering of Capstone, concept only.
Sites around the Green Spine Pond and Green Spine corridor (parcels B and M) would contain smaller more convenience oriented services like financial services, exercise studios, bakeries and sandwich shops.
The master plan vision of Capstone is progressing. Public realm programming (fun runs, picnics, and outdoor yoga) is attracting new faces to Capstone and building an audience of interested, potential residents. Meanwhile, the community's connective infrastructure improvements and strong retail vison, are attracting developers with interest in building mixed-use rental, affordable and modern homes.