Capstone will be rooted in nature and embraced by culture. You'll follow art walks that go from downtown to the riverfront, join a book club, take a seat for a dance performance or music recital. Find your passion and share with other - Capstone will be a place where every interest finds a home.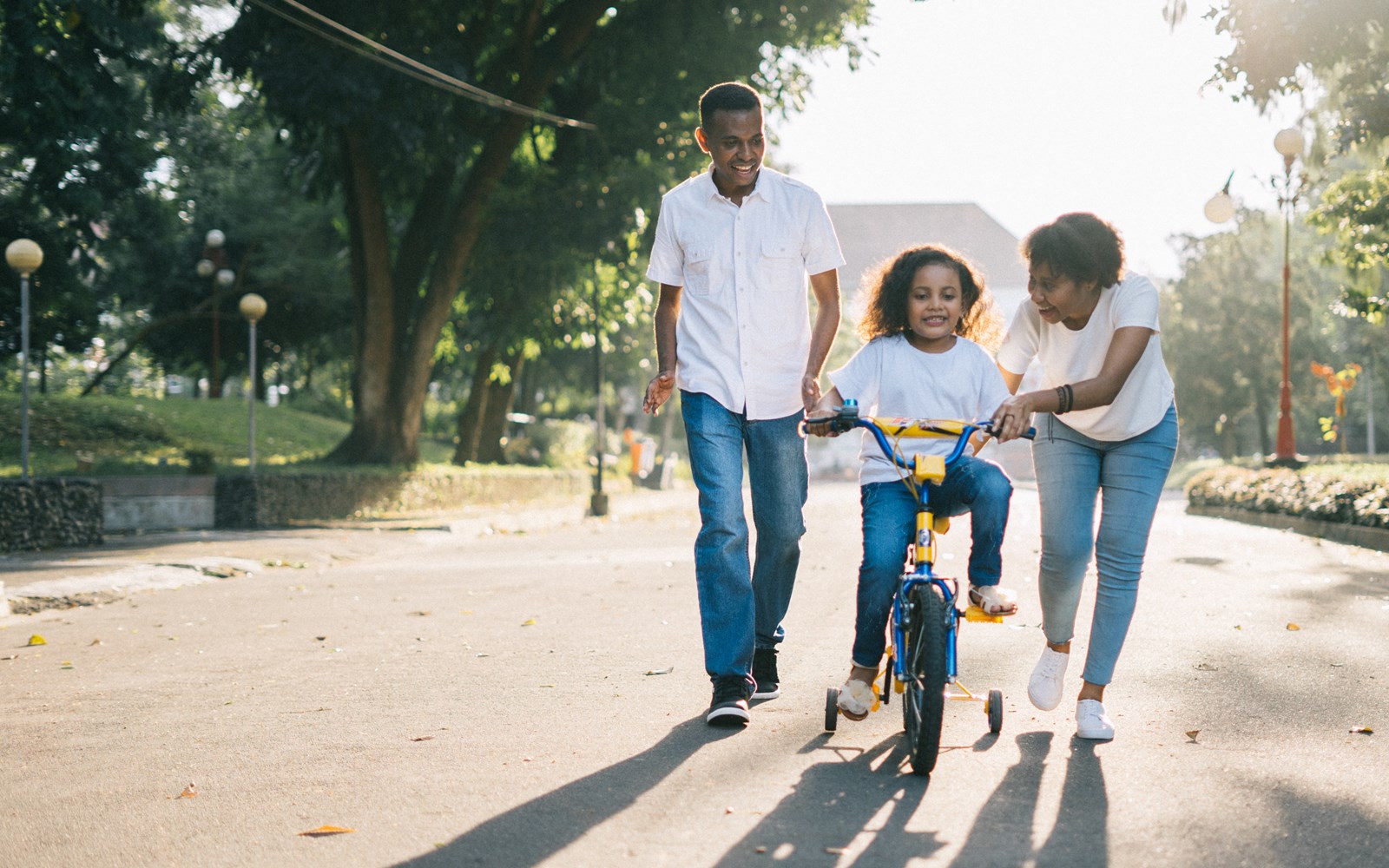 Amenities
Here, where life is active, you'll choose your own pace - walk through a neighbourhood of condos and townhomes set alongside scenic streetscapes and lush riverside parks, stroll to the grocery, enjoy a brisk run down Riverwalk, hike up through your choice of over 100 kilometres of paths, do some business and browse shops downtown. When you live where you work, commute-time becomes free time. Offices, healthcare clinics and street-level retail will be just outside the door.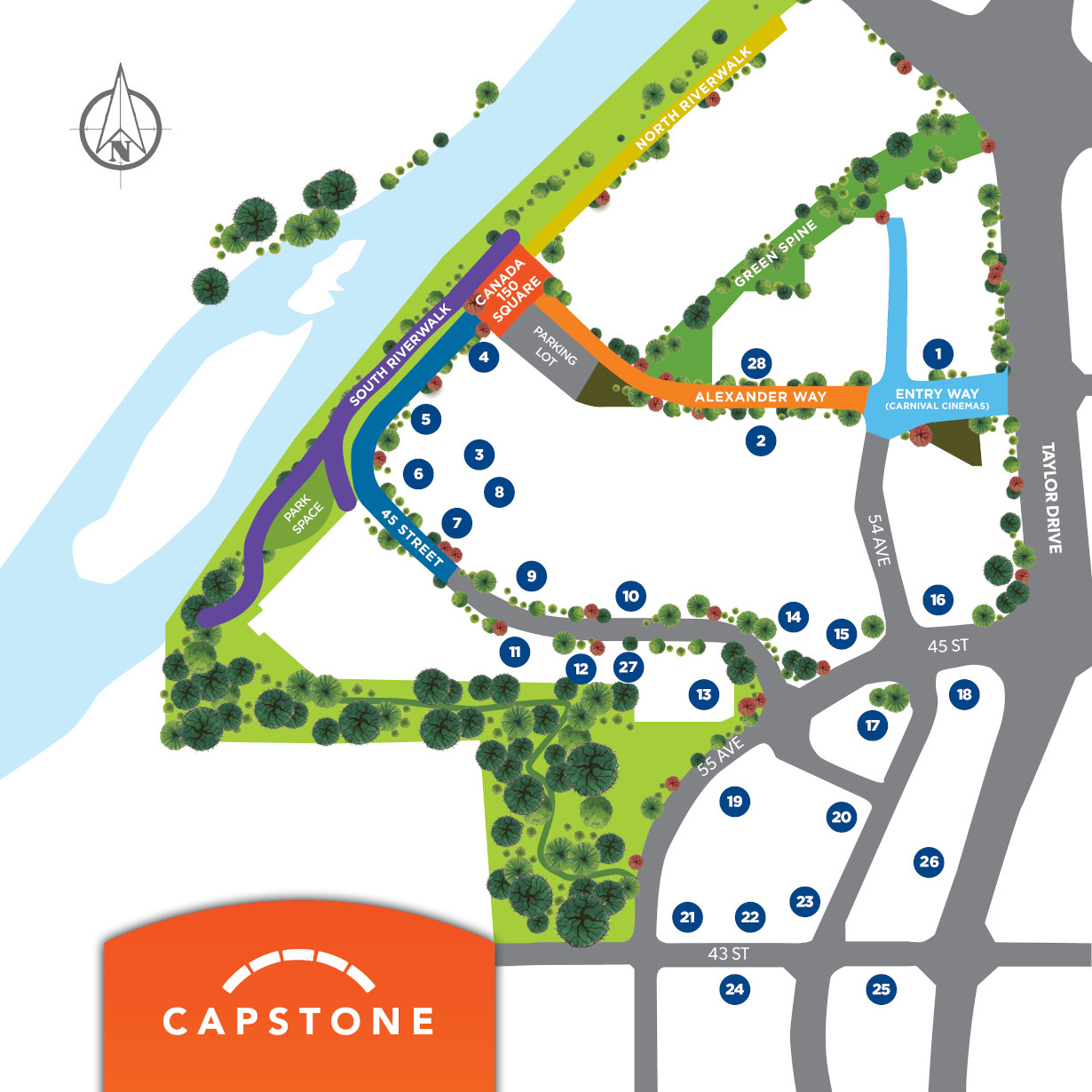 Living/Working/Shopping
26
Academy of Learning Career College
3
Advanced Bookkeeping Solutions Inc.
9
Alana Peters Leadership & Executive Development
25
Associate Massage Therapy Clinic Ltd & Laser Therapy Center
3
Baker Tilly Chartered Professional Accountant
18
Black Counselling & Consulting Services
20
CAMIS - Central Alberta Medical Imaging Services
25
Canadian Red Cross Society
9
Capstone Chiropractic, Brian Snider
19
Central Alberta Child Advocacy Centre
9
Central Alberta Economic Partnership
9
Common Ground Garden Project
17
Cronquist Medical Clinic
17
Cronquist People's Pharmacy
3
Danielle Carl, Psychological Services
7
DJ's Sport Cards Comics & Collectibles
25
Dragonfly Centre (Children's Healing Centre)
19
Edwards & Holloway Health & Wellness
7
Etek Computer Supplies & Office Furniture
25
Expert Body Modification
17
Feet Terrific Nursing Footcare
19
Froese Psychological Services (FPS)
6
Great Strides Fine Shoes
7
IJD Electrical Inspections
18
Jason Stephan, MLA Red Deer South
Living/Working/Shopping
18
Kindopp Financial Solutions
19
Life Force Chiropractic
9
Lifelong Learning Council
3
Megan-Joy Rockey, Rockey Consulting
25
National Seating and Mobility
6
Peace Country Dental Studio Inc.
10
Peak Medical Specialty Centre
6
Primerica Financial Services
9
Printer World International Inc.
6
Red Deer Montessori Preschool
9
Red Deer Wellness Clinic
19
Regional Mortgage Group
4
Riverland Hearing Clinic
10
Riverlands Medicine Clinic
7
Sacred Mountain Wellness Studio
3
Scott McGill Professional Corp
18
Sunreal Property Management Inc.
3
The Collective Suites by Copper Lane
25
The Phone Experts (Telus)
18
Transitions Counselling
25
Trinity Chiropractic Wellness Centre
3
Universal Mortgage Solutions
23
Vital Registry Services Ltd.
15
Weber Physiotherapy Clinic Inc.
Entertainment/Food/Drink
25
Fisherman's Pride Seafood & Deli Ltd.
22
Red Deer Senior Citizen's Downtown House
7
Shotokan Karate Club of Red Deer
Recreation/Fitness/Parks
9
Assure Health and Wellness
9
Cheney's Zen Karate and Kickboxing
3
Christian Motorcyclist Assoc. of Canada
7
Red Deer Fire Fighters Assoc. Local 1190
25
Seven Stars Praying Mantis Kung Fu
4
Sunny Bee's Wellness Connection
4
Wheeler's Bicycle Repair
Parks & Pathways
Gather in the park or by the Red Deer River. Step out for some air, stay for the conversation. Capstone has been carefully planned with abundant spaces to linger on with friends, relax with family, or hang out with four-legged companions. There's a newly-completed Riverwalk, two major public squares in the works, and a Green Spine that makes park space, ponds and picnic areas the backbone of the community. Be part of a community both inclusive and enriching, in spaces designed to bring people, places and passions together.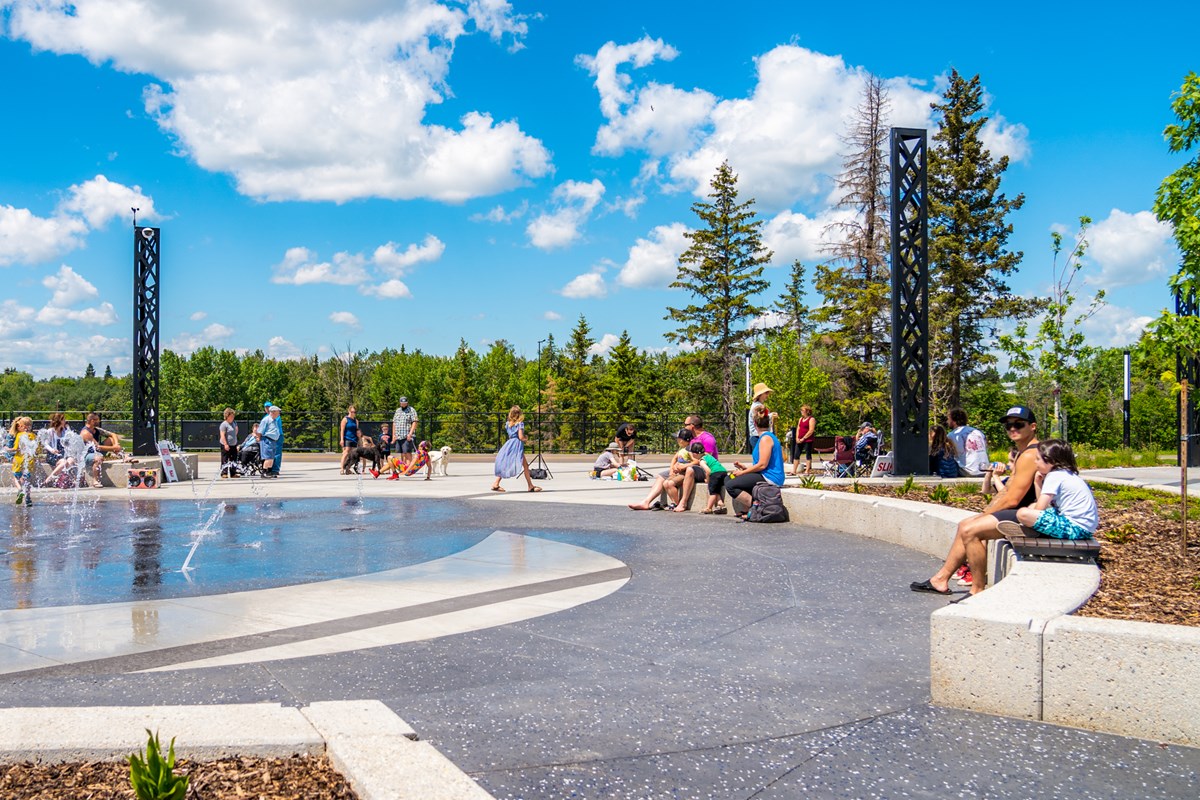 Canada 150 Square
Centrally located along the Riverwalk and at the western terminus of Alexander Way, Canada 150 Square is Capstone's main gathering place and activity programming space. Decorative concrete, lighting, planters, furniture and a fountain have been installed, making the square the obvious focal point of the community.
Riverwalk
The new Riverwalk multi-purpose trail on the Red Deer River is a significant upgrade to the existing South Bank Trail. Riverwalk is part of Red Deer's Waskasoo Trail and The Great Trail systems. So many kilometres to explore!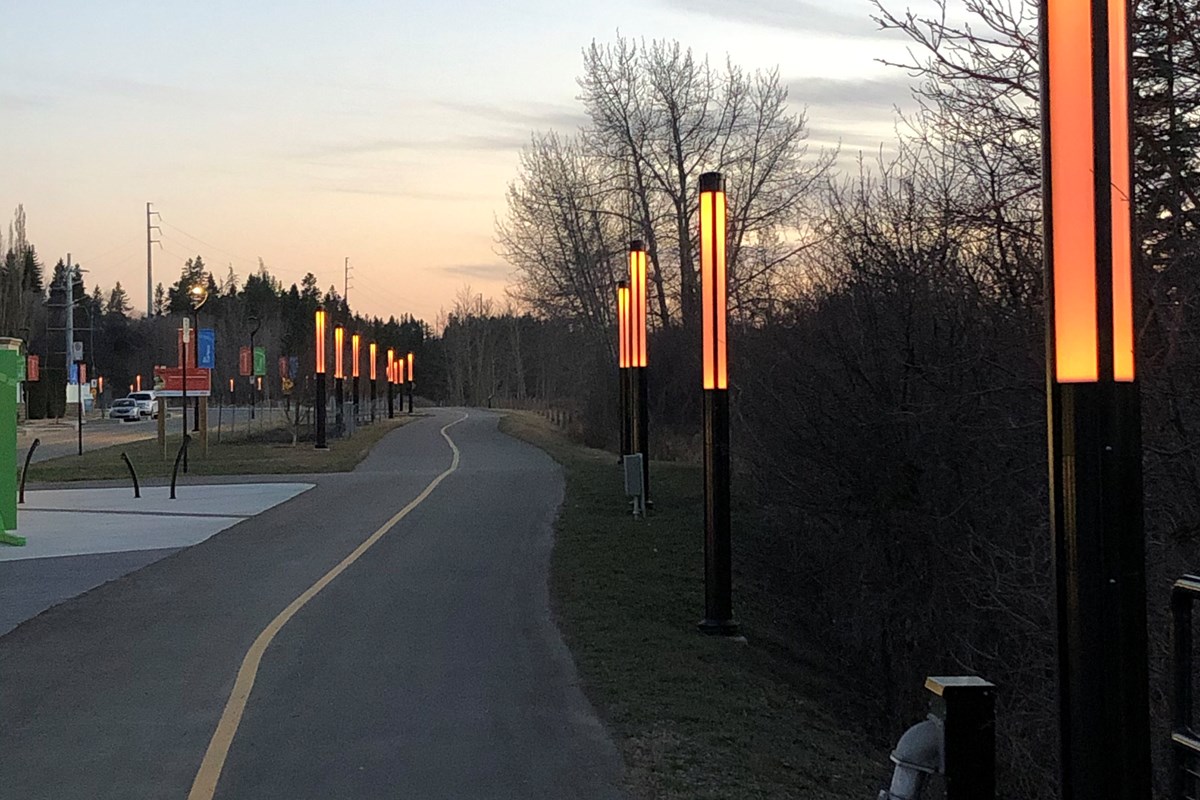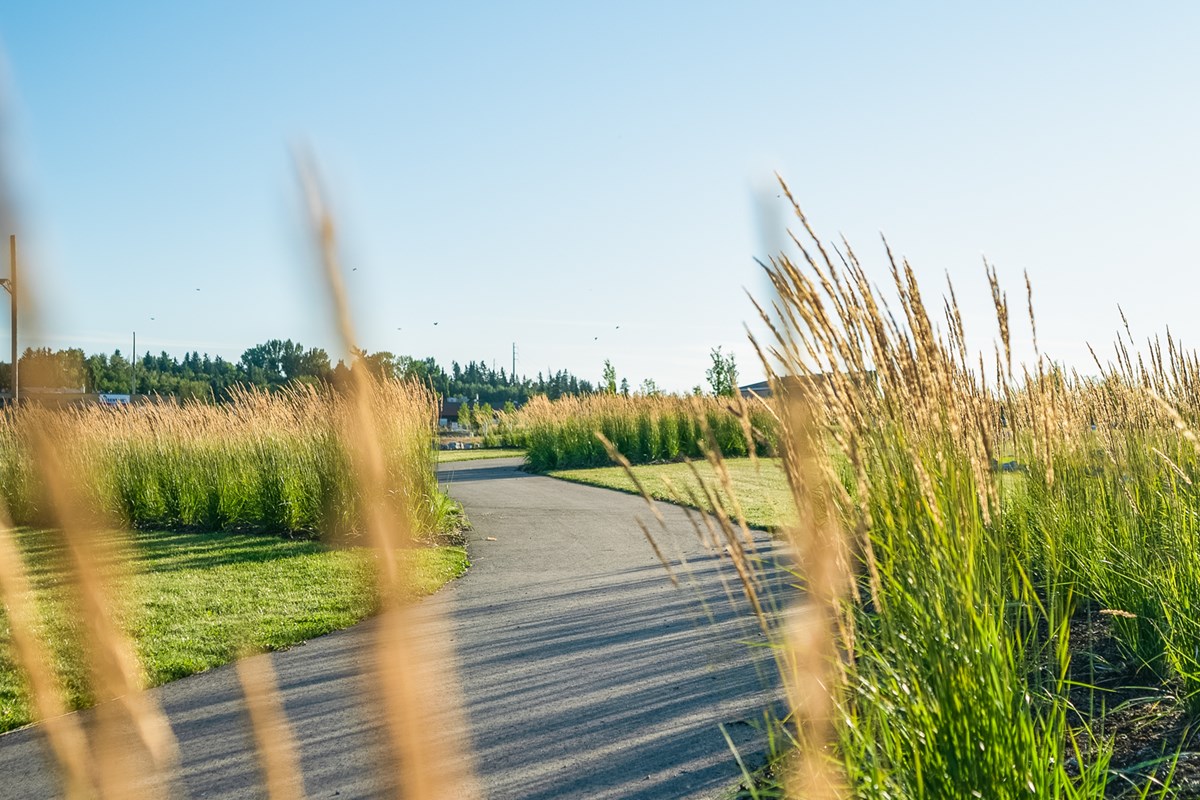 Green Spine
The Green Spine starts at the intersection of Taylor Drive and 50 Street and runs south and west through the center of the community - it's the backbone of Capstone. It's a beautifully landscape - and eventually amenity-packed - pedestrian boardwalk designed to lead residents and visitors into the community.
Welcome Square
The future Welcome Square will aid in the transition from busy Taylor Drive to the two-lane Alexander Way, and will welcome Red Deerians into the Capstone community. With its planters, seating and bright orange 'Cap-Canopy', it will be a natural place for pedestrians and cyclists to pause, and for pop-ups, community games, food stalls and small-scale performances.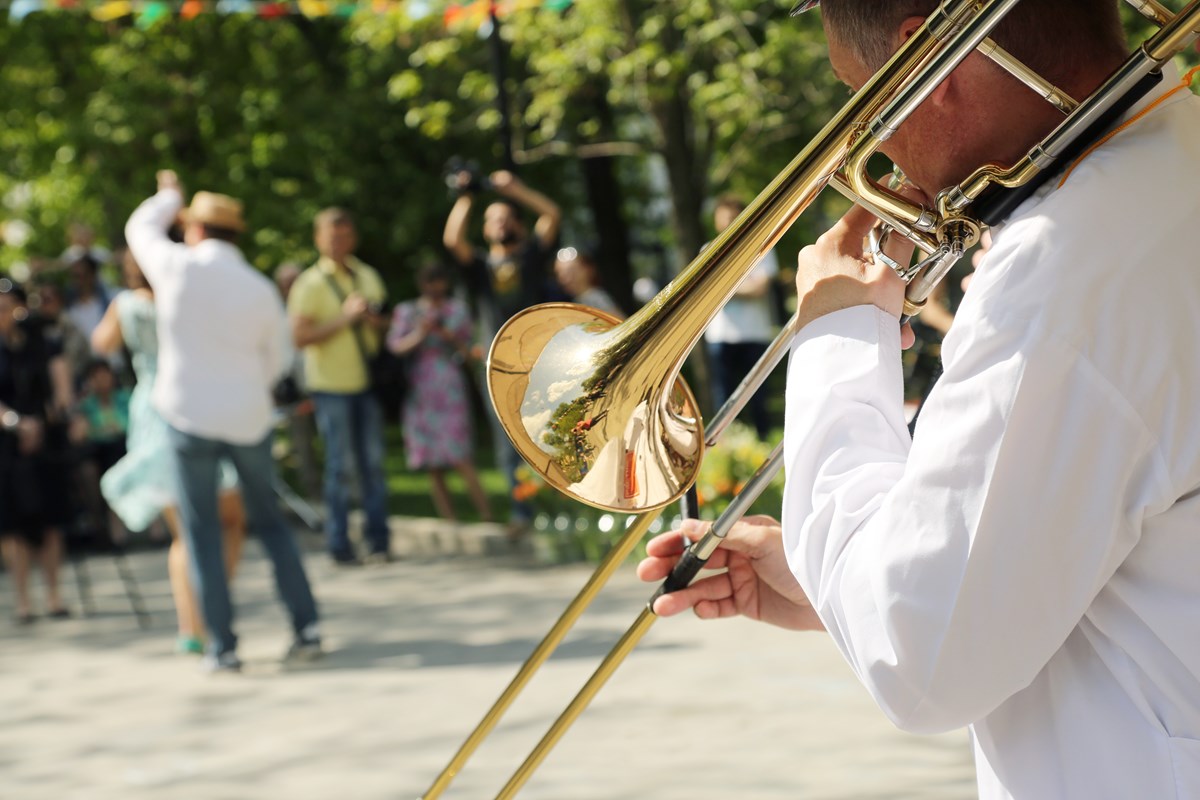 Shops & Services
Located in the heart of Red Deer, Capstone has been designed as a city within a city. Future Cap Citizens will be surrounded with inspiration from all around the world: quaint cafes, modern restaurants, unique shops and boutiques, art galleries and late-night entertainment. With all the convenience and culture that Red Deer has to offer, you won't need to go far to experience something new.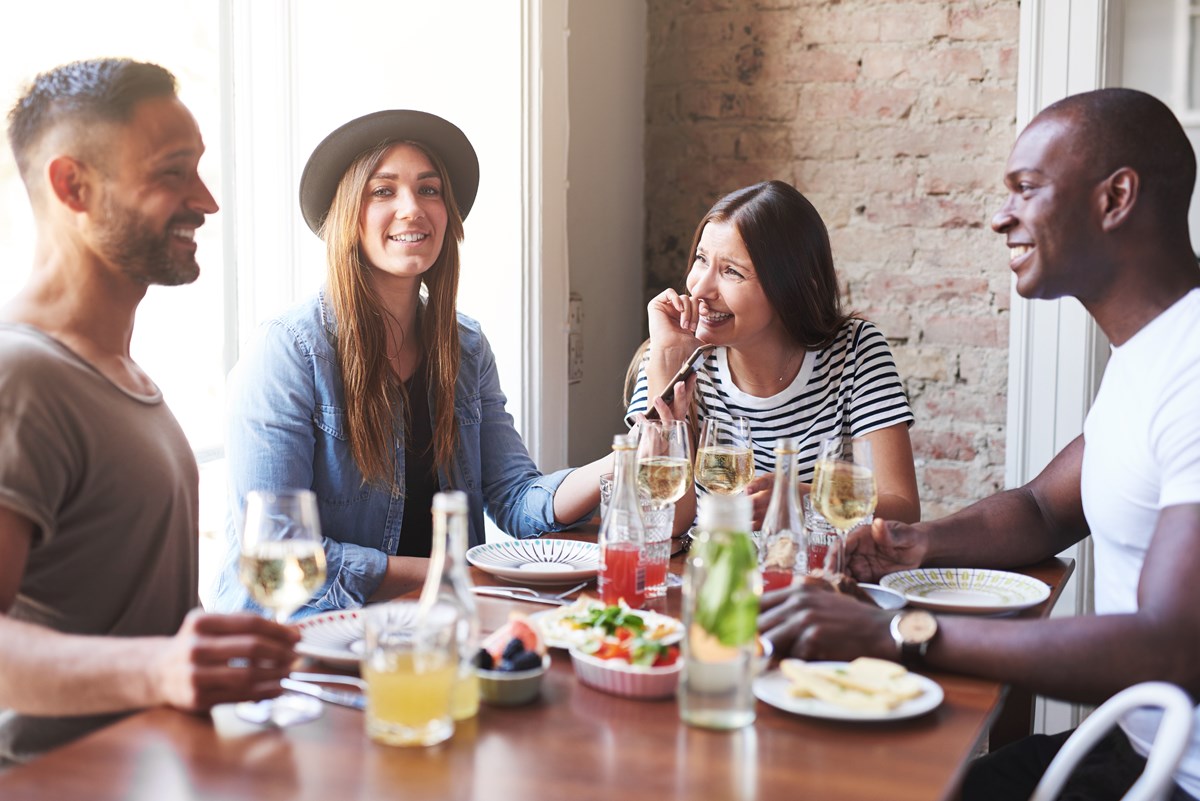 Subscribe now to be the first to receive exclusive news and updates on Capstone