They often concentrate the most enjoyable characteristics of cities into walkable areas, and by doing so, become attractive destinations not only to their residents, but also to local visitors and even tourists. In short, they're great places to live.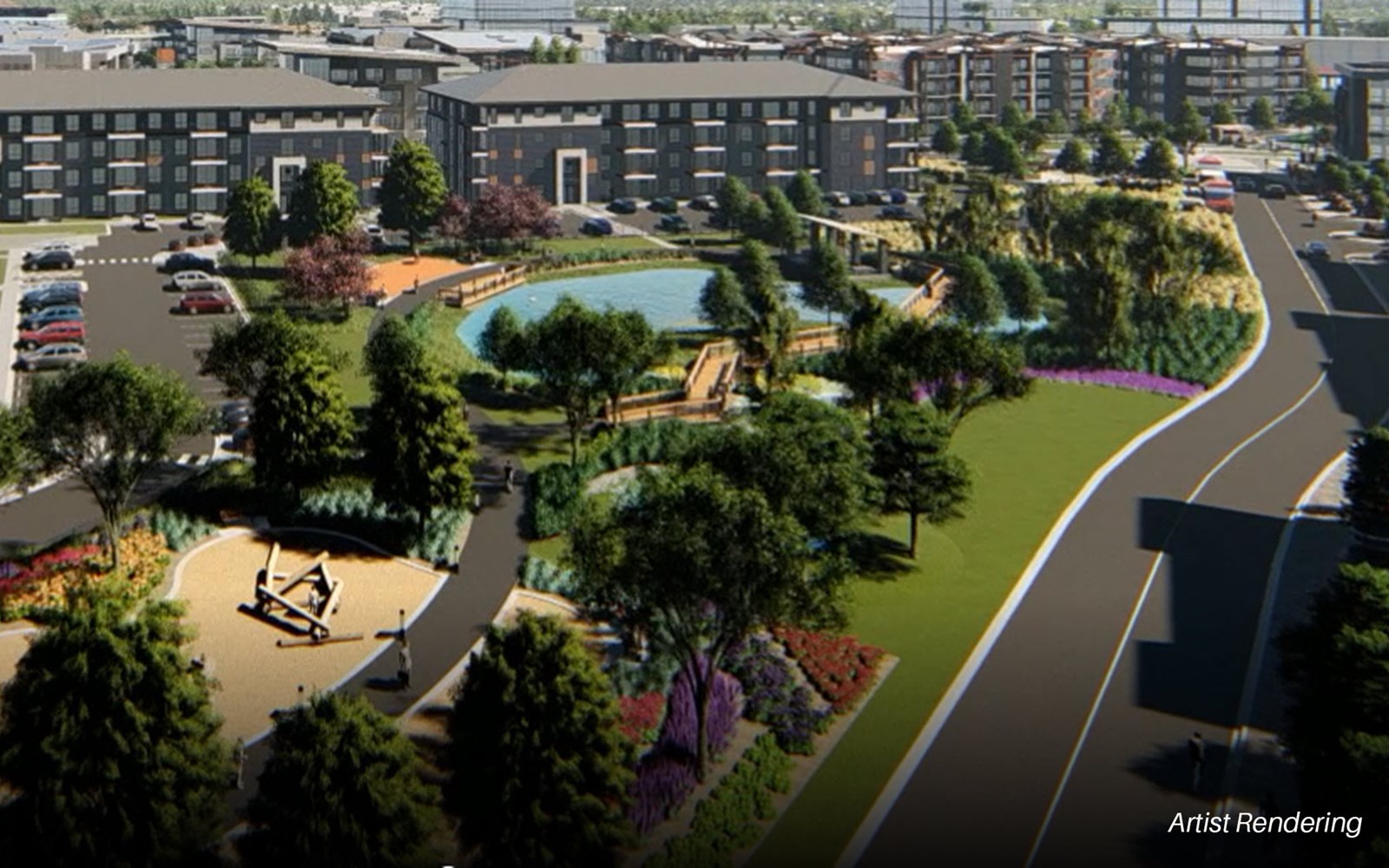 When The City of Red Deer entrusted the artistic Urban Design firm Gehl with the task of master-planning the community, it sent a clear signal that it was committed to bringing international-level best practices to prime riverfront land. Gehl recognized that Red Deer has tremendous assets in its public spaces, especially its parks and trail system. The firm set out to enhance the connections between Capstone and its neighbours, make public spaces a focus, enliven streets, and weave residential areas throughout to create a cohesive and innovative community fabric - effectively tying the amenities, services and riverfront of Capstone to the rest of downtown with three main pedestrian and vehicle access points.
Capstone has been master planned to connect the sociability of the city to the natural beauty of the riverfront in the heart of Red Deer, and it has been designed to meet the needs of Red Deerians now while anticipating their future needs. As a City, as planners and as citizens, we're creating an environment where recreation, amenities, services and cultural experiences are the backdrop to a warm, satisfying and engaging community life.
History
The area today known as Capstone is a 91-acre district just west of the downtown business district. It's bordered by the Red Deer River on the north and west, Taylor Drive on the north and east, and the West Park neighbourhood on the south; it also includes a business park and some 300 residents. A longtime riverfront meeting place in a spectacular river valley for First Nations, a midpoint respite on the Calgary and Edmonton stagecoach trail, then a major divisional point on the rail line, the city we now call Red Deer has always benefited from a superb location that gave it rapid, direct access to resources, beauty and most of the province's population.
Red Deer's stature was cemented at the end of the 19th century when Rev. Leonard Gaetz gave the city a distinct leg up; 600 acres of land on the Gaetz homestead in exchange for building the townsite and railway in Red Deer. The railway, a major divisional point on the line since 1907, is a critical distribution link to this day, growing, moving and adapting with shifting needs.
The sandstone quarry to which Capstone pays tribute to was built by Henry Reinholt in the 1890s adjacent to the river just south of the current Taylor Bridge. The first commercial-scale quarry in the region, it produced stone used in the construction of some of Red Deer's most prominent buildings and operated until the 1920s.
Yet of all the events to shape Red Deer, perhaps none is more significant to Capstone than the growth of the parks along the Red Deer River. In the early 1980s, the provincial government joined forces with the city to develop "an urban corridor park" along the Red Deer River and its creeks. The parks, and a new city walking trail system then in the works, grew together to become a unique 110-kilometre network of trails and hundreds of acres of parkland throughout the city. There are now more than 700 hectares of park space in our city of 100,000 people.
Today, one of Canada's great urban park systems, Waskasoo Park, is also one of Capstone's most valuable and desirable amenities.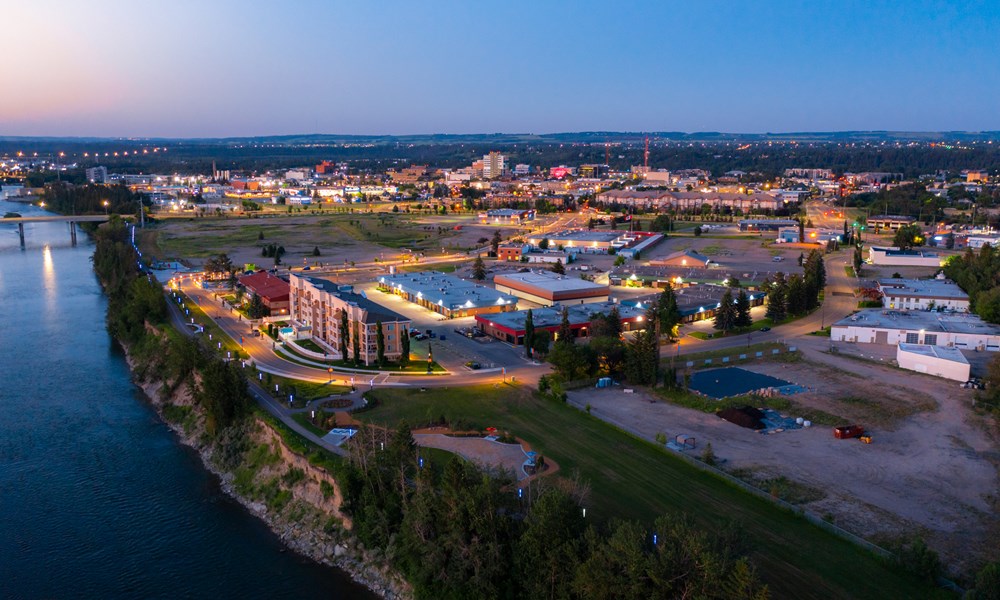 Planning Principles
The Gehl master plan for Capstone is based on a framework of what the firm calls city-shaping themes. These are overarching principles that guided the creation of the plan and its infrastructure, and that reflect best practices in planning for current and future city living.
The planning principles that have shaped Capstone are: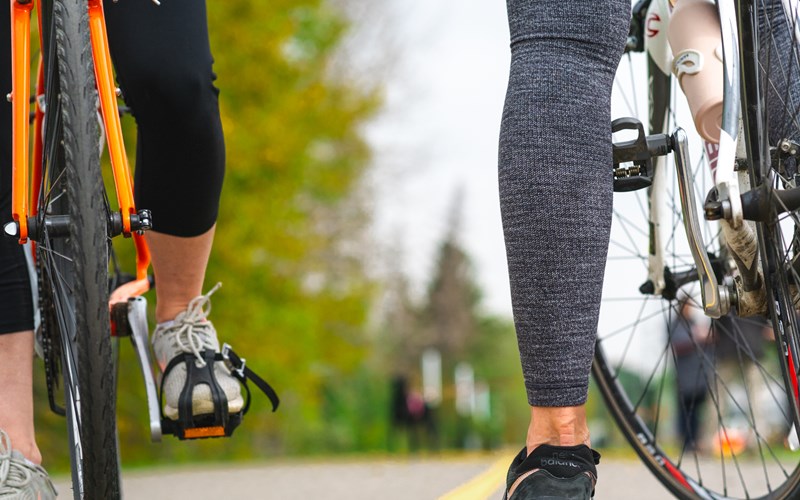 GREAT STREETS that allow for multiple types of use, and with people interacting amidst bustling stores, offices, shops, restaurants, public buildings and open spaces. These streets place a greater emphasis on the needs of pedestrians and bicycle and transit users as compared to typical suburban streets.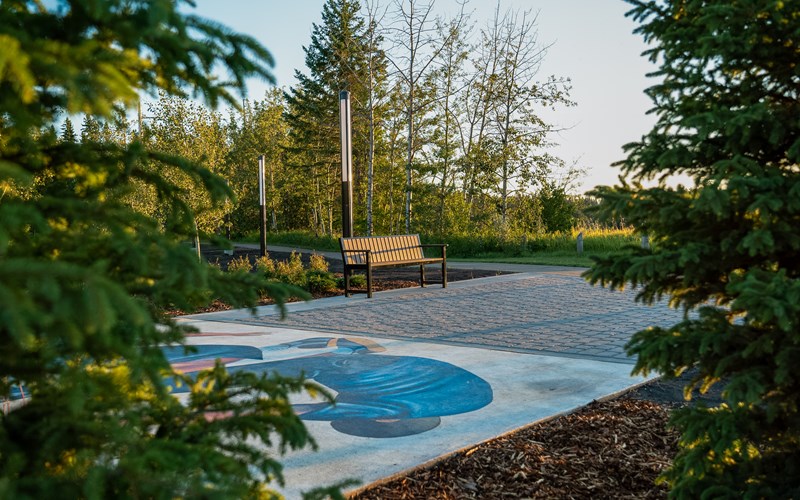 GREAT PLACES that enhance safe, positive interaction among residents and visitors. The great spaces of Capstone are a first choice for community gathering.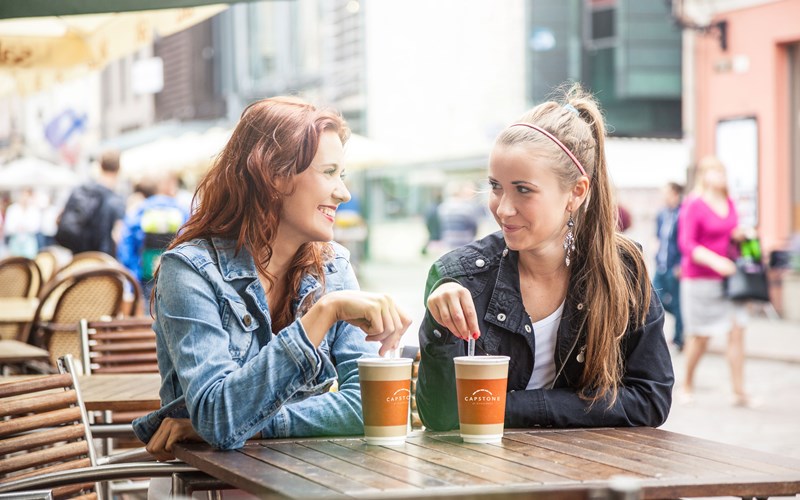 GREAT CONNECTIONS through attractive natural and constructed pathways to the downtown core, Waskasoo Park trails and districts outside the core.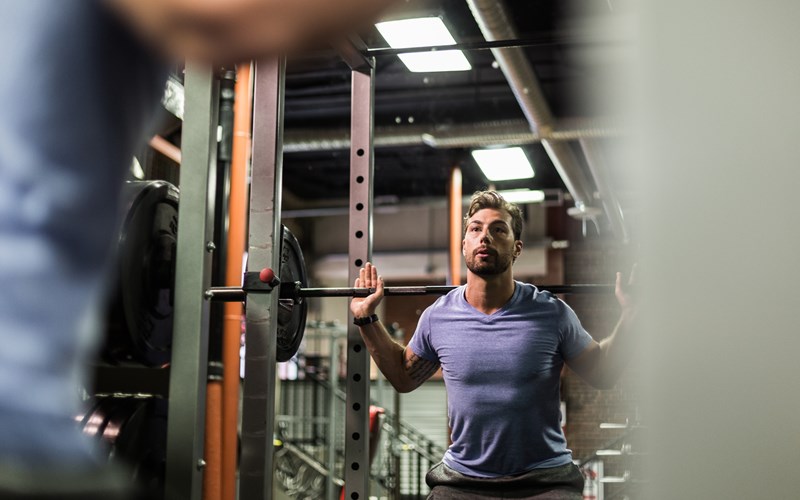 ENHANCED VITALITY by creating a place for all citizens, with a wide variety of buildings, facilities and indoor and outdoor amenities - a place of innovation, new ideas and exploration.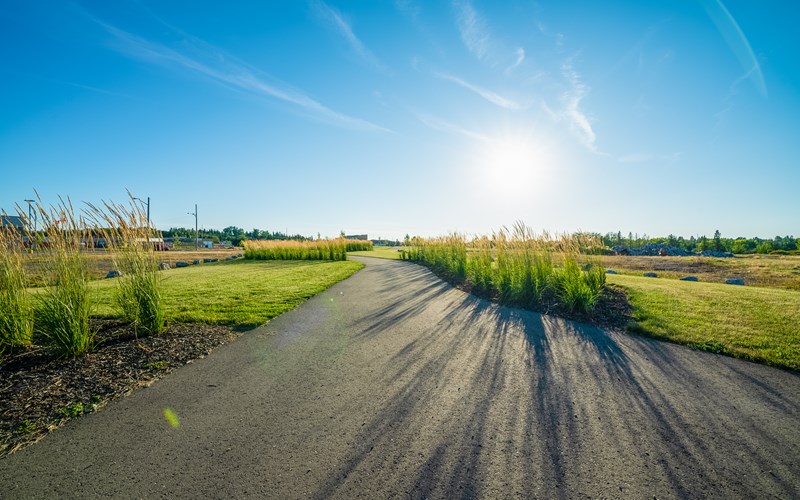 CELEBRATING AUTHENTICITY by responding to the history that is embedded in the layout, the buildings and natural areas in Capstone.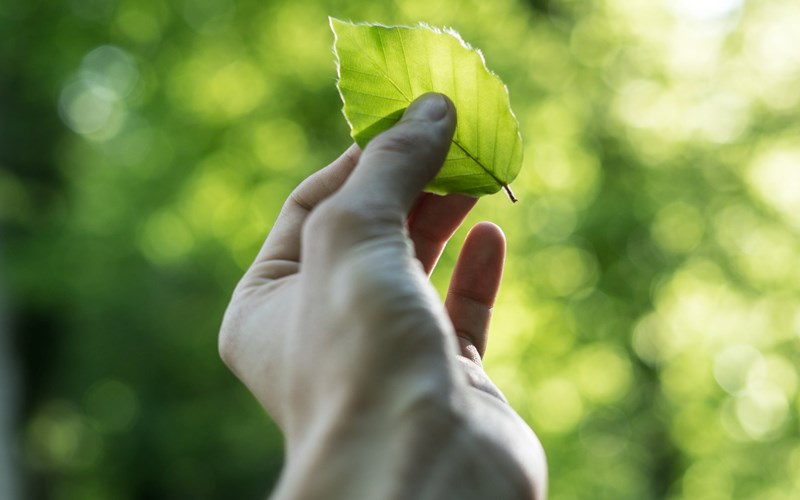 PRACTICE SUSTAINABILITY using existing natural and built infrastructure; higher density and lower per-capita resource use can be achieved through smart growth development.
Cap Citizen
Capstone was designed to enliven downtown Red Deer, enhance connections and offer a range of mixed-use and multi-family residential offerings. But who are the Red Deerians who would be attracted to that? What are their hopes and dreams?
Capstone will be home to a community of social people engaged with community, active people who love nature, and enthusiastic people with an affinity for culture. You and your fellow Cap Citizens will find your passion and share with others - you can follow art walks that go from downtown to the riverfront, join a book club, take a seat for a dance performance or music recital, or just take a stroll together.
Cap Citizens are inquisitive learners who like to explore and try new things, want to learn about nature, explore active lifestyles, and look behind the curtain at the orchestra. Sound like you? The community will provide opportunities for you to quench your interest in your neighbours, your desire to learn from one another and your curiosity about the art and science of living.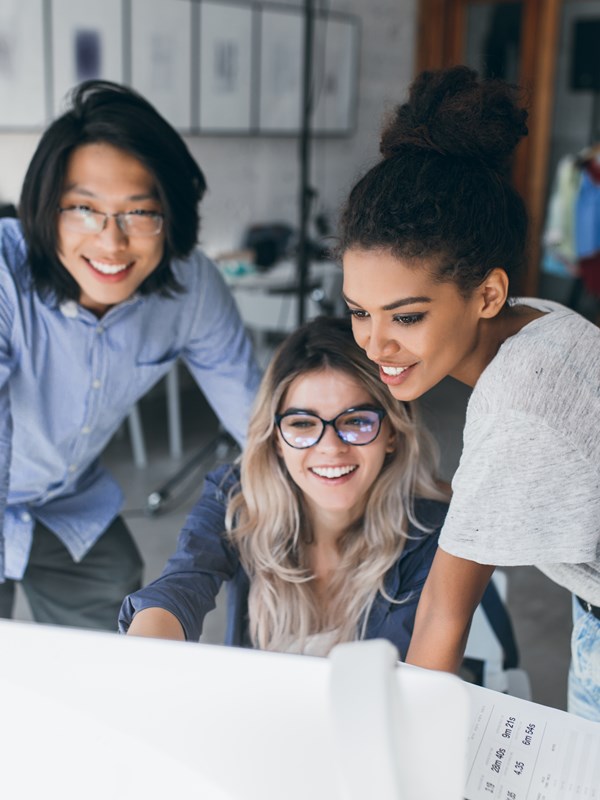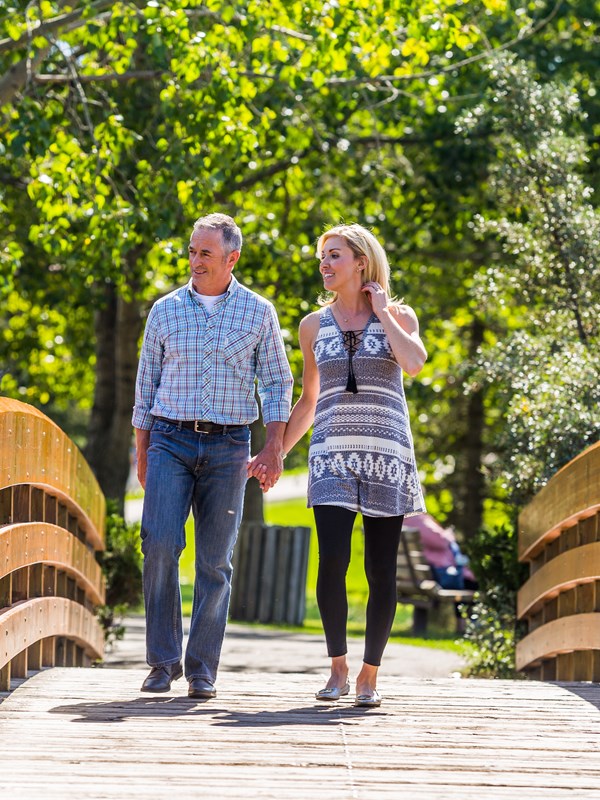 Master Plan Math

Investment in Canada 150 Square: $4.6 million

Number of homes at build-out: 2,000 units

Number of businesses in Capstone: 120
Length of Green Spine, Capstone's linear park: 375 metres

Number of nearby recreational ponds: 2 (Bower Ponds and Green Spine)

Number of craft beer breweries and kombucha makers: 1 and 1


Acres of developable City-owned parcels in Capstone: 18

Kilometres of multi-use trails accessible from Capstone: 100+km

Time to the shops of Historic Downtown: 8 minutes on foot
Horizontal improvements/construction began: 2013

Number of residents at build-out: 5,000
Length of Riverwalk through Capstone: 750 metres

Infrastructure Projects + Timeline
A project like Capstone isn't something that happens overnight; it takes years of research, planning, strategizing and collaborative action. Our story began with a focus not just on a single development, but a holistic emphasis on making Red Deer a truly one-of-a-kind city. Take a walk down memory lane as you enjoy the highlights of our incredible story; one that continues to grow and evolve over time.
Follow our story by scrolling through information shown in the graphic below.
2009
City's Civic Operations move from Capstone (formerly known as Riverlands)
2009
Update to the Greater Downtown Action Plan is approved providing high level direction for development in throughout the greater downtown, including Capstone
2010
Planning and Design work continues in Capstone
2011
First Area Redevelopment Plan adopted by Council, enabling Capstone redevelopment
2012
Infrastructure planning, Engineering and Design work started for the realignment of Taylor Drive and Alexander Way
2013
Realignment of Taylor Drive and Ross Street Intersection begins
2013
Environmental Testing begins on the buildings and land
2014
The City's former civic buildings are demolished
2014
Construction at Taylor Drive and Ross Street intersection continues
2015
Construction of new intersection at Alexander Way and Taylor Drive
2015
Conceptual design and planning of Capstone by Gehl
2015
AltaLink transmission line burial
2016
Design of Alexander Way, Riverwalk, and Developer-driven infrastructure and amenities
2016
Updated Area Redevelopment Plan and Land Use Districts adopted by Council
2017
Construction begins on 45 Street
2017
Canada 150 Square announcement
2017
Underground utility construction
2018
Alexander Way construction
2018
Green Spine Phase 1 Construction
2018
Construction completed on 45 Street
2019
Construction begins on Canada 150 Square, the parking lot and the Riverwalk.
2019
Construction completed on Alexander Way
2020
Construction of the Canada 150 Square, the Parking Lot and Riverwalk are complete
2020
Water flows in Capstone's decorative fountain for the first time
2020
Capstone begins seeking developer partners
2021
Capstone begins an exciting summer of place making and events in order to socialize the vision of Capstone, and forms new partnerships with Access 4 Disabilities, Common Ground Garden Project, and SPARC Red Deer
2021
Common Ground Garden Project is established in Capstone and completes construction of Garden A
2022-2040
Phase 2 & 3 of Green Spine (new amenities), Welcome Square (corner of Taylor Drive to 54 Avenue), new sidewalk connections, extension of 54 Ave to the riverfront, Green Spine road construction, Riverwalk promenade
Future Projects
Ongoing socialization of the Capstone vision, including community activation and place making
Development Parcels
Development sites, which range in use, size and density, have been mapped and are shovel-ready. Each parcel has been considered and configured to make it easy for developers to build smart, well-designed multi-family homes that make financial sense.
Download Development Brochure Download Development Parcel Map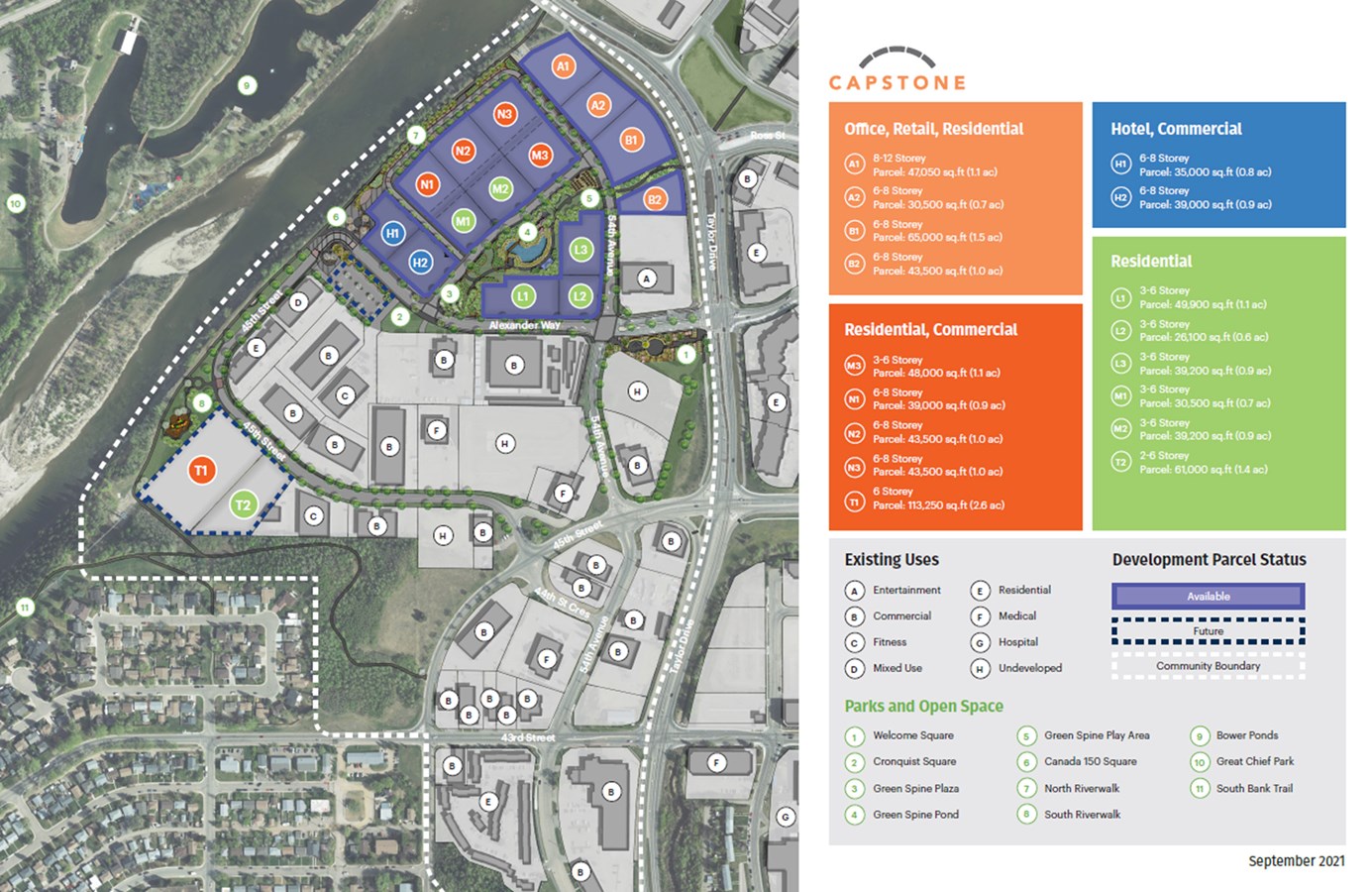 Subscribe now to be the first to receive exclusive news and updates on Capstone