We would like to give a huge thank you to everyone that attended the milestone Capstone at Riverlands announcement and street festival celebration on August 23. We had a blast! For those of you who may not have heard, last week, our Riverlands district officially became Capstone at Riverlands. Why the new name? Capstone can mean one of two things: the top stone of a structure or wall, or a crowning achievement. The name represents the future vision of Riverlands as it will connect people and provide a hub of activities and business opportunities for all of Red Deer. We are ecstatic to be seeing our vision coming to life and we wouldn't be able to do this without the support of the community. THANK YOU.
We invite you to visit www.liveincapstone.ca to learn more.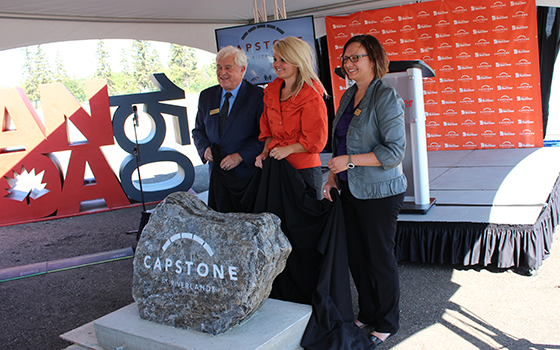 Construction update
We're continuing to work on installing deep utilities along 45 Street, and the road closure on 45 Street from the Quarry south around the corner to the entrance to 5580 45 Street is still in place. We're working with our contractor on dust control measures, and they are watering the streets daily, unless rain is in the weather forecast.
Other news
The excitement in Capstone is building, and we're going to be undertaking a project to find out who might be interested in helping us bring the vision for Capstone at Riverlands to life. Next week we're going to be issuing an Expression of Interest to engage the market and learn more about the type of developers who might be interested in coming to Capstone. The Expression of Interest will be available to everyone on the Alberta Purchasing Connection website, and we'll let you know when it's been posted.
If you have questions or concerns about construction, please contact our Engineering department at 403-342-8158. For more information about Riverlands, please visit reddeer.ca/riverlands or contact Cory Edinga, Riverlands Project Manager at 403-342-8106.