Capstone's Ice Playground
The unusually warm weather in February didn't stop visitors from chilling out in Capstone's Ice Playground! Read the full story here.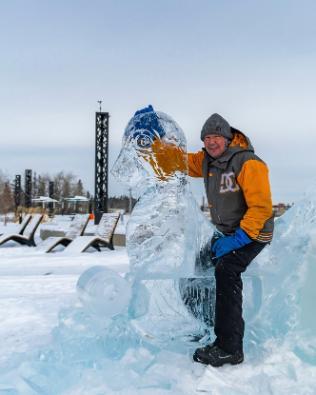 Ice Artist Lee Ross
Spring is in the air!
We bundled up for adventurous Easter Egg & Scavenger Hunts, got creative in the Chalk & Crafts Area, enjoyed live music with Reijo, and had a hopping good time on the Easter weekend!
PCN Fun Run, XPlore Sport and the Central Alberta Child Advocacy Centre Courage Cup were all held in Canada 150 Square on May 7! These events celebrated people, movement, and community in support of a great cause.
Capstone retailers were also busy with their own events this spring, including a Mother's Day Tea Party by Magpie Textiles and WannaWaffle on May 8, the CentreFest Mother's Day MiniFest at Ctrl-V and Carnival Cinemas, and the Hippie Little May Day Market by Love, Yoga, Grace on May 1.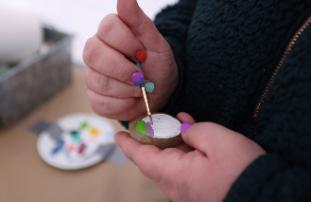 Envisioning Capstone
Capstone is a vibrant, healthy, inclusive and passionately optimistic neighbourhood that's connected to new ideas, explores fresh ways of living, and is designed for life in Red Deer today and in the future. Find out more about life in a city neighbourhood where nature and the Red Deer River live on your doorstep with our Envisioning Capstone video!
Summer of Curiosity returns to Capstone!
View our Capstone Events Calendar, and check back often for updates! Upcoming activities include AccessAbility Week events, the Troubled Monk 7th Anniversary Run, Food Truck Fridays, Painted Games on Capstone sidewalks, ongoing events at the Common Ground Garden Project, and exciting Father's Day activities!